Fill in your email address below to subscribe to our newsletter.




PRESS

We at directgamesroom are always getting asked to provide machines to corporate events celebrity and media events alike

Kenny Baker



Here are some well known personalities platoon some of our machines at the Mobo awards 2012







Check this out
Astral Fighter Arcade Machine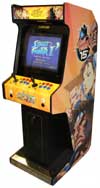 £1,995
What's Cool?
Gaming Chairs

What's new?
Fun 4 Four
Casino Table

£5,995