Fill in your email address below to subscribe to our newsletter.




ABOUT US...

Welcome to Direct Games Room, the UK's premier web site for the sale of Arcade Machines and Games Room equipment, plus associated services.

Here at Direct Games Room, we don't just simply sell things, we offer a complete range of additional support services, that give you that extra peace of mind when buying Arcade Machines and Games Room equipment.

SALES

As you will see from the product pages, we sell a wide range of new and pre owned Arcade Machines and Games Room equipment. Not everything we sell is listed, so if you can't find what you are looking, please contact sales.

REPAIRS AND SERVICING

You don't have to have bought a machine off us, to have us repair or service it. With our wide experience in the trade, we have built up an enviable collection of skills, which enable us to repair the majority of items we get asked to. No matter if it's an extensive Pinball strip down and clean, or just replacing a joystick on a Voyager, or Astral upright arcade machine, you can be reassured all jobs no matter how big they are, receive the same attention to detail and all the work is naturally guaranteed.

CONTRACT MAINTENANCE

If you just have one arcade machine, a whole games room, or a site operation, we can provide a custom and cost effective ongoing maintenance program, to keep your machines operating up to the standard you require.

CUSTOM BUILDS AND ARTWORK

Over the years we have had the honour to make custom machines for industry legends such as Taito and Capcom, utilising our in house technology. Not only can we customise existing production machines, we can create machines from scratch for Advertising Agencies and Public Attractions etc., which need a one off creative solution for their clients, or venue. In addition to this, again utilising technology developed in house, we can customise or re brand an existing, or new build machine to your exact requirements, or brief, with our custom artwork service.

REFURBISHMENT SERVICE

Our refurbishment service can often be the answer to your tired machine problem. You might want to restore your pride and joy so you can enjoy it once again, or have it restored so you can sell it, as opposed to scrapping it, or you might just want to put some commercial value back into your arcade machine, whatever the reason our refurb service is available to the public and the trade.

HIRE SERVICE

At Direct Games Room we offer and extensive range of machines for hire to the Domestic, Corporate and the Leisure Industry. From a 40th birthday celebration, to a product launch, we have the experience and the equipment to make your event a success. We also do long term hire to venues and public attractions on a no cost basis, see the enquiry form on the hire page.

DELIVERY AND INSTALLATION SERVICE

We offer a specialist arcade machine blanket delivery service, in dedicated vehicles to the public and the trade. If you combine this with our installation service, we are in a unique position to move often large and heavy machines, into awkward places safely and without any damage.

INSURANCE VALUATIONS

Accidents will happen and when they do, you need qualified help to give you an accurate quotation for repair, where viable, or a documented replacement cost. We can also liaise directly with your insurance company, to speed things up and save you having to make any payments for your repaired, or replacement machine.

Have a look around our site and if you have any questions, please don't hesitate to contact us.



Check this out
Astral Fighter Arcade Machine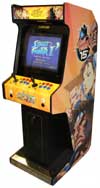 £1,995
What's Cool?
Gaming Chairs

What's new?
Fun 4 Four
Casino Table

£5,995