Fill in your email address below to subscribe to our newsletter.




Custom Corporate Work

Here at directgamesroom we get asked to take on all kinds of projects here we were asked to complete a custom arcade project involving a large screen at a major shopping centre






Other Examples of Corporate Installations



Check this out
Astral Fighter Arcade Machine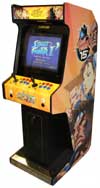 £1,995
What's Cool?
Gaming Chairs

What's new?
Fun 4 Four
Casino Table

£5,995