Fill in your email address below to subscribe to our newsletter.




ARCADE MACHINE MONITOR TFT CONVERSIONS

We are able to convert certain arcade machines to machines bearing TFT monitors this is a process that will transform the clarity of the graphics to a much higher standard and prolong the life of your machines.



Please click here to view the final machine that's had it's conversion. Notice the enhanced clarity of the screen





Check this out
Astral Fighter Arcade Machine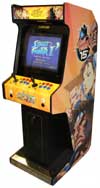 £1,995
What's Cool?
Gaming Chairs

What's new?
Fun 4 Four
Casino Table

£5,995