Fill in your email address below to subscribe to our newsletter.




MACHINE SERVICING


At Directgamesroom you can be assured that your in good hands, we have extensive workshop and graphic design capabilities meaning we can restore your machine to a high standard. Below are some machines we have brought back to life.

Here you can see examples of some of the work we undertake at directgamesroom, we have a sega rally 1 and a sega rally and a fast track air hock all been refurbed to a high standard.

Extra special care is taken on all aspects of the servicing and refurbishing of machines to make that extra special gift.








Check this out
Astral Fighter Arcade Machine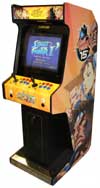 £1,995
What's Cool?
Gaming Chairs

What's new?
Fun 4 Four
Casino Table

£5,995