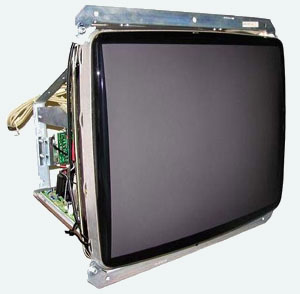 Here at Direct Games Room we can repair most makes CRT and LCD Arcade monitors.
Why not let us bring your cherished machine back to life for you !
Our highly qualified engineers can repair a wide variety of makes and models from manufactures including, Wells Gardner, Hantarex , Pentranic, Ducsan, Kortek, Toshiba, Electrohome , Nanao, Kaga, Intervideo, Intervideo, Pentranic, Orion, Sanwa, Toei, Rodotron, Sharp Image, Wei Ya, subject to parts still being available.
With the exception of Vector monitors, we offer a flat rate labour charge of £185.00, plus the cost of replacement parts and carriage. All parts replaced are covered by a 90 day return to base warranty.
For more information e-mail sales@directgamesroom.com, quoting the make and model number of the monitor, if possible.
TFT Conversions
We are able to convert certain arcade machines to machines bearing TFT monitors this is a process that will transform the clarity of the graphics to a much higher standard and prolong the life of your machines.
Please click here to view the final machine that's had it's conversion. Notice the enhanced clarity of the screen