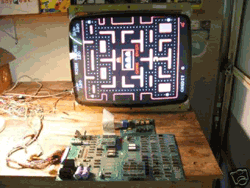 Here at Direct Games Room we can repair a wide range of arcade machine game boards (PCB's) and particularly specialise in Sega from 1993 onwards and Konami from 1996 onwards on the larger machines, with boards like Space Invaders and Galaxian on the smaller ones.
Why not let us bring your cherished machine back to life for you.
Our highly qualified engineers have vast experience in board repair and can repair and restore boards, which you would struggle to get done elsewhere.
We offer flat rate repair costs starting at £150.00 plus carriage, subject to the board and condition. All parts replaced are covered by a 90 day return to base warranty.
For more information e-mail sales@directgamesroom.com, quoting the make and model number of the machine, the board is out of if possible.